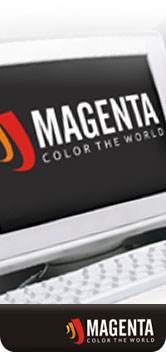 IT'S NO HARD TO BE A BETTER THEN ...
"Magenta" has been successfully present on the market for the last five years, acquiring new friends and business partners day by day.
Our business team comprises 15 full time employees aged 30 years in average who follow the contemporary way of operating and fulfilling the requests of our buyers. Efficient business operating and constant realization of clients' requirements and needs have resulted in developing an army of over 2000 satisfied users who purchase our products regularly, this number growing every day.
The need to meet the European work standards and confirmation of the company quality operating with the aim of constant product improvement resulted in introducing ISO 9001:2001 and ISO 14001:2004 standards in 2007.
The received standards are not our final aim but the encouragement to apply quality control management and environment awareness in continuously improved processes and activities with maximum regards to legislation, leading to the accomplishment of three basic principles
Having the aim of our products being available and present everywhere, we distribute them through our business units and commercial representatives all around Serbia: Belgrade, Krusevac, Novi Pazar, Gornji Milanovac, Smederevo, Jagodina, Vranje, Pozega, Zajecar, Bor, …
With our work, effort, responsibility and large number of commercial representative offices around the country, we have managed to combine the most important features of every business:

ACTIVITIES AND NOVELTIES
Each of our success in any business field is a challenge for further development and enlargement of the scope of activities and services.
Setting the goal of constant development in all directions, following the market demands and applying the adopted standards we never take a break.
To this point, we have implemented and applied the following activities:

industrial recycling/ remanufacturing of toner cassettes

laser printer servicing

ink-jet cartridge refilling

photocopier maintenance

office consumables

archiving data mediums